Office Refurbishment
The Yan Yean Cemetery Trust is pleased to announce that we will be refurbishing our office building, from 14 June to 24 June 2022 the office building will be closed, we will be operating from our chapel building, therefore our chapel will  not be available for services until 28 June 2022, we apologise for any inconvenience, we are confident that most visitors will be pleased with the results of our on-going endeavours.
Yan Yean Cemetery Management
New Cemetery Section Development
The Yan Yean Cemetery Trust is pleased to announce stage 1 development work of the new area (Southern Section) just behind the public toilets is commencing 16 May 2022.
This stage is the beginning of the development of the area according to the Trust's masterplan, it will provide further opportunities for burials, memorialisation of loved ones and a beautiful place to reflect those who are no longer here.  Our contractors are experienced working in the cemetery environment and will endeavour  to minimise disruptions during the course of their work, taking the upmost care and respect of their surroundings.
Yan Yean Cemetery
---
Cemetery Grounds Maintenance
Yan Yean Cemetery acknowledges the vital importance of visiting a loved one at the cemetery, however at times in the interest of visitor's safety would like to advise visitors that due to the prolonged wet weather, sometimes there may be restricted access due to the ground's conditions, there may be mud or waterlogged sections, if you are visiting during these conditions, please proceed with caution and wear appropriate footwear.
The Trust is committed in the maintenance of the cemetery grounds and its facilities; however, the cemetery is a not-for-profit run organisation and maintenance can be significant, the Trust endeavours to address each issue.
---
LES RUSSELL
LES Russell's a life member of the Yan Yean Cemetery Trust, dedicating 55 years to the Trust and a lifetime of dedication to the Whittlesea community was recognised with a posthumous Medal of the Order of Australia as part of the Governor-General's Australia Day honours list.
As the effects of the COVID-19 pandemic are constantly changing and affecting our lives, Yan Yean Cemetery is still committed in servicing the needs of our community and following the latest advice from the Department of Health and Human Services (DHHS) to adjust our services and practices to protect the health and welfare of employees, contractors and the community.
We encourage everyone to continue to follow all Victorian Government directives and take steps every day to keep ourselves and others safe.
We understand how difficult the current circumstances and its impacts are, especially during the loss of a loved one.
Vale Leslie Russell
It is with great sadness that Yan Yean Cemetery farewells life member Leslie Russell.
Les passed away on the 23 January 2021 and will be greatly missed by all who knew him.
Les was an important member of the Whittlesea community, serving on many committees.
Les was a life member of Yan Yean Cemetery Trust, he was first appointed as a Trust Member in October 1965 and served on the Trust until now, over 55 years of dedication and service. During that time, Les served as Chairperson of the Trust from 1976 until 2014, where he managed many of the cemetery's developments and improvements.
Our deepest sympathies go out to his family and our thoughts are with you during this difficult time.
Yan Yean Cemetery Trust and Staff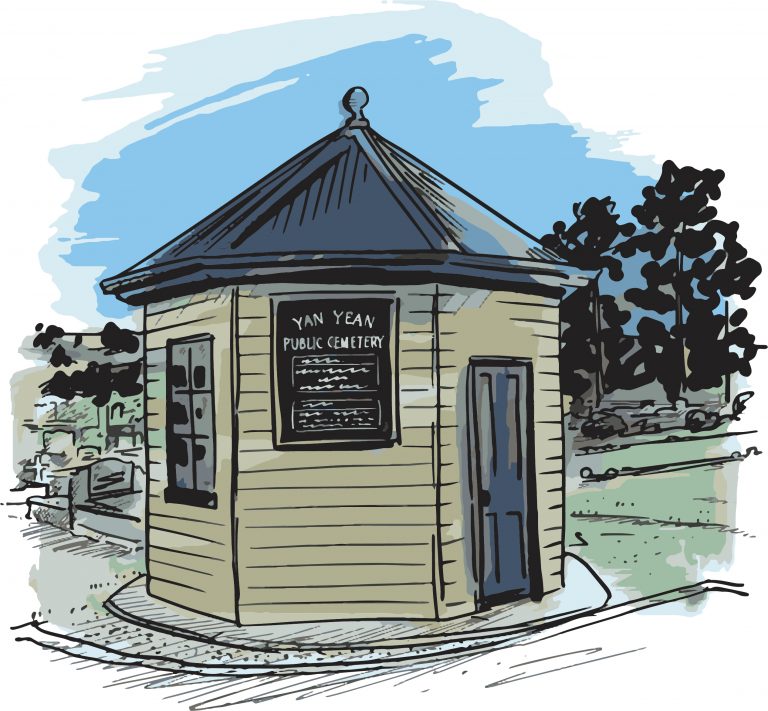 ---
Temporary Structure
All temporary structures are strictly prohibited, any unauthorize structure, including: temporary fences, a box surrounding a grave site, matting, seats, etc. will be removed at the Trusts discretion.  The Trust has a legal obligation to ensure the safety of visitors, contractors and staff, these temporary structures do not adhere to OH&S standards and can be dangerous and cause harm. These structures become the responsibility of families who place them, if an incident was to occur you may be held liable.
---
Fire Within the Cemetery
The Trust values and respects the traditions and religious practices of our community. However, we must uphold the requirements of the law.
On TOTAL FIRE BAN DAYS, it is prohibited to light candles, oil lamps or any flames.
On FIRE DANGER PERIODS please do not leave candles & oil lamps or any other flames unattended.
Fire Danger Period: 14/12/2020 - 01/05/2021
---
Pre-Sales 
Yan Yean Cemetery Trust is not able to sell graves and cremated memorial options pre-need at this stage. All sites are reserved for at need use only.
Pre-need sale means a transaction for the sale of a Right of Interment (deed) concerning to a grave, vault or memorial of any type, which is purchased in advance of the need to exercise the Right.
At-need sale means a transaction for the sale of a Right of Interment (deed) concerning to a grave, vault or memorial of any type, which is purchased at the time of or in combination with a funeral booking.
---
The Trust apologises for any inconvenience caused due to current enhancements. Our staff and contractors will endeavour to minimise disruptions while works are being carried out.
Thank you for your patience and understanding, we are confident that the results will please and benefit our community.