COVID-19 - Update October 2021
As the effects of the COVID-19 pandemic are constantly changing and affecting our lives, Yan Yean Cemetery is still committed in servicing the needs of our community and following the latest advice from the Department of Health and Human Services (DHHS) to adjust our services and practices to protect the health and welfare of employees, contractors and the community.
We encourage everyone to continue to follow all Victorian Government directives and take steps every day to keep ourselves and others safe.
We understand how difficult the current circumstances and its impacts are, especially during the loss of a loved one.
Current Regulations:
* Face masks must be worn at all times, unless you have a medical exemption.
* Indoor and outdoor funerals gatherings are capped at 10 people (mourners serving as pall bearers are included in the 10 person limit), the capped 10 people does not include support personnel or infants under 12 months.
* For further information, please visit the DHHS website.
Funerals and Cemeteries FAQ
Can I attend a funeral?
Yes, funerals can occur indoors and outdoors, but funerals will be limited to 10 mourners plus the minimum number of people required to conduct the funeral.
Can a place of worship host a funeral?
A place of worship may host a funeral, but attendance will be limited to 10 mourners plus those required to conduct it.
Can a faith leader visit someone at a home, a hospital or an aged care facility for last rites?
A faith leader may visit someone in their home, or at a hospital or aged care facility, to share spiritual ministry (or equivalent religious services) to provide care and support to a person who is at the end of their life.
Up to two visitors may attend an end of life activity of unlimited duration at a private residence. In addition to the two visitors, any intimate partner of the person experiencing end of life and any person who ordinarily resides with the person experiencing end of life (and their intimate partner) may attend.
Face masks, physical distancing and other visitation requirements at hospitals and aged care facilities must be observed.
Can I visit a gravesite more than 15km from my home?
Yes, you can attend a gravesite more than 15km from your home for compassionate reasons provided that this is only with people who ordinarily reside with you or one other person.
The chapel is available for service bookings with limited numbers, a COVID clean will be required (additional fees apply).
Our office is temporarily closed to the general public, with the exception of funeral directors, stone masons and at-need site selection (by appointment only).  Visitors must electronically check-in when entering the building and use the sanitation station. We thank you for your co-corporation.
We can be contacted during business hours by calling the office on 9716 2619 or by email at info@yanyeancemetery.com.au
Plaques
Plaque orders can be made by email or calling the office with the desired inscription, our administration team will assist you with the process.
Our gates are opened: car access is from 7am to 8.30pm everyday and pedestrian access 24hrs a day, we ask you follow current restriction guidelines, for the wellbeing of everyone.
Funeral Directors
We ask you to follow the national guidelines and limit attendees to the allowed maximum. We recommend you bring your own bars, lowering tapes and/or device to minimise cross contamination. We thank you in advance for your cooperation.
Stone Masons
Stone Masons should seek their own independent advice regarding their industry.
Monumental masons can continue to conduct masonry work, subject to current regulations.
Stone Masons are required to notify the office a day prior to arriving on site, upon arrival you must check into the office, have a COVID Safe Plan and work permit and follow any indications by cemetery staff.
Stone Masons permitted work hours are Monday to Friday between 8.30am to 4.00pm, subject to funerals, please call the office the day before to check if there are funerals that will affect your ability to work.
Thank You
During this difficult time, it is important to remember that we are a community and to look after one another, staying safe.
We thank you for your understanding and patience and we wish everyone to remain safe.
Yan Yean Cemetery Management
---
Vale Leslie Russell
It is with great sadness that Yan Yean Cemetery farewells life member Leslie Russell.
Les passed away on the 23 January 2021 and will be greatly missed by all who knew him.
Les was an important member of the Whittlesea community, serving on many committees.
Les was a life member of Yan Yean Cemetery Trust, he was first appointed as a Trust Member in October 1965 and served on the Trust until now, over 55 years of dedication and service. During that time, Les served as Chairperson of the Trust from 1976 until 2014, where he managed many of the cemetery's developments and improvements.
Our deepest sympathies go out to his family and our thoughts are with you during this difficult time.
Yan Yean Cemetery Trust and Staff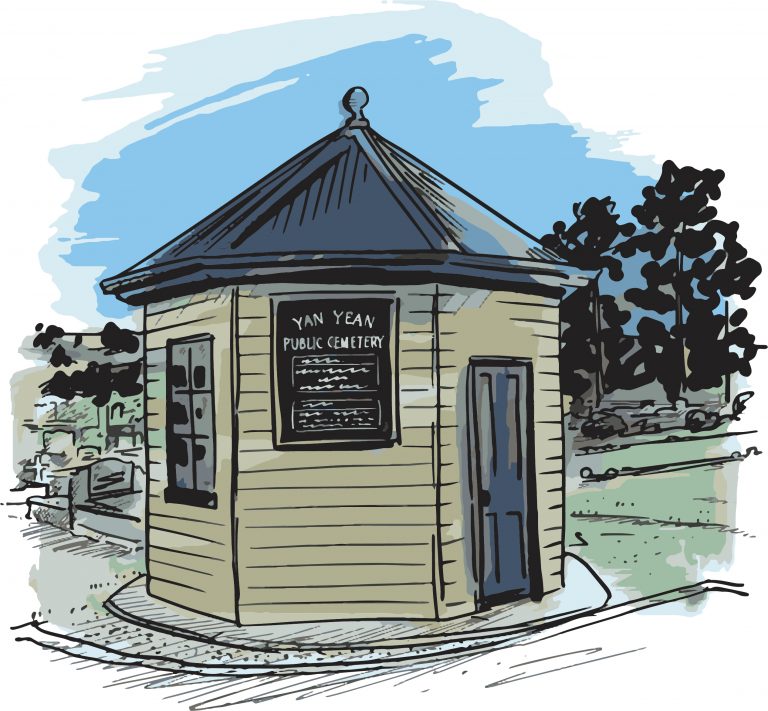 ---
Temporary Structure
All temporary structures are strictly prohibited, any unauthorize structure, including: temporary fences, a box surrounding a grave site, matting, seats, etc. will be removed at the Trusts discretion.  The Trust has a legal obligation to ensure the safety of visitors, contractors and staff, these temporary structures do not adhere to OH&S standards and can be dangerous and cause harm. These structures become the responsibility of families who place them, if an incident was to occur you may be held liable.
---
Cemetery Grounds Maintenance
The Trust is committed in the maintenance of the cemetery grounds. One aspect is the health and the safety of the trees within the cemetery. A recent major assessment of the trees has been carried out by an Arborist, from the Arborist recommendations over the next 12 months there will be works on our trees, some more significant than others, this will include removal of dangerous and sick trees, maintenance and protection of existing trees, and replanting.
---
Fire Within the Cemetery
The Trust values and respects the traditions and religious practices of our community. However, we must uphold the requirements of the law.
On TOTAL FIRE BAN DAYS, it is prohibited to light candles, oil lamps or any flames.
On FIRE DANGER PERIODS please do not leave candles & oil lamps or any other flames unattended.
Fire Danger Period: 14/12/2020 - 01/05/2021
---
Pre-Sales 
Yan Yean Cemetery Trust is not able to sell graves and cremated memorial options pre-need at this stage. All sites are reserved for at need use only.
Pre-need sale means a transaction for the sale of a Right of Interment (deed) concerning to a grave, vault or memorial of any type, which is purchased in advance of the need to exercise the Right.
At-need sale means a transaction for the sale of a Right of Interment (deed) concerning to a grave, vault or memorial of any type, which is purchased at the time of or in combination with a funeral booking.
---
The Trust apologises for any inconvenience caused due to current enhancements. Our staff and contractors will endeavour to minimise disruptions while works are being carried out.
Thank you for your patience and understanding, we are confident that the results will please and benefit our community.